How deal with and handle a stubborn wife
51
King Solomon – "It is better to dwell in the corner of the housetop, than with a contentious woman in a wide house"
Marriage is an institution that should be enjoyed and happy, virtually every day millions of people always dream of the happy day they will be the nuptial knot with their loved one. There is no one that dream of problem in marriage or either envisage problem in their marital life. At certain point, if you are in a relationship with a stubborn client you must learn how to deal and tolerate a stubborn spouse. Even though your wife may likely not to be really stubborn in nature but some are naturally stubborn and arrogant.
When we say someone is stubborn it means someone is unreasonable and often refuses to change their mind about a particular issue, ideas, or an action. When mostly asked why stubborn they can't give a particular or genuine reason for their stubbornness or resistance. There are some reasons that might be responsible for your wife stubbornness.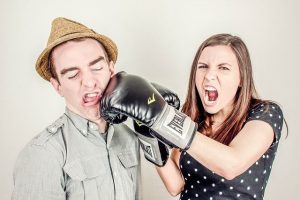 Defending and idea/action: There are some people that have the belief that if their idea, suggestion, interest or point is neglected then they are unimportant to you. They easily personalized their idea to themselves. They always think their real identity is threatened if people or their husband is not convinced with what she is saying.
Given the fact that every human is unique, every human has many different characteristics that is conflicting with that of another individual. A partner that is not willing or ready to give in or submit to his/her idea or action and always want to have her way means problem in her marriage. I will be discussing some useful tips and ideas on how you can handle that stubborn wife and rejuvenate happiness, joy. Loving someone means you have to accept them and understand them. I know that getting around them is not going to be easy, but once you get used to this ideas and tips that will be discussed soon you will find yourself being able to deal effectively with your stubborn wife.
Understand why you wife is stubborn
The reason for your wife stubbornness might be because you are not seeing the logic behind her decisions. Try to reason and see things from their own perspectives, there are times while our judgment is clouded by self interest, anger or frustration. When you are learning about how to go about to handle or deal with your wife you have to remember that when you are in a relationship it means that you have made up your mind to work differences and also make sacrifices for her. There are definitely going to be some differences knowing that we humans are not the same and we come from different background, which is the first step in resolving issues.
Pick your battle
If your wife seems that she won't just back down, don't waste time trying to argue, nag, yell, or complain otherwise it makes the situation worsen. If a decision means too much to your partner let them know you support them this time and try to make them understand that when it comes to your position it means more to you too and you will ask for support in return. You have to choose your priorities and be ready to lose the rest.
Spend quality time together
What is the major reason why you are married? Is it just to have kids? The marriage is meant to be companionship which many people long to have but sometimes they never get. Your spouse should be your best friend and confidant.
Understand one another
You must try to listen to your spouse and try to understand her. There are times it can be the reverse of what they are saying but you have to listen and observe her body language and eye contacts.
Take positive approach
The key is for you to know how to deal with a stubborn wife is to avoid hostility or violence of any kind or confrontation. Fighting and exchanging of words or blows is never an answer or solution. The most important thing is to keep it cool and level head, because this while give you a good leverage so that you will be able to talk and negotiate the issue calmly, properly and reasonably. There is nothing a soft and good talk or response can't resolve. Often times ego and pride gets in their way, so when you provide proof to your points so agreement can be perceived in the light of the evidence and not that they have a change of mind. Dealing with a stubborn wife can be especially more challenging when they tends to be more narrow-minded. However, when patient and keeping in mind that learning on tips and ways to handle your effectively will guarantee you happy and successful marital relationship. I believe with all these mentioned tips you will effectively make use of them and give your relationship happy boost.
Read on how to deal with a narcissist
The real problem may be that your spouse or woman is a narcissist, if she has an inflated sense of their own importance, a deep need for admiration and a lack of empathy for others. But behind this mask of ultra-confidence lies a fragile self-esteem that's vulnerable to the slightest criticism. Then you can read more about how to deal with a narcissist here.